October 2021 Touch of Hope Scholarship Winners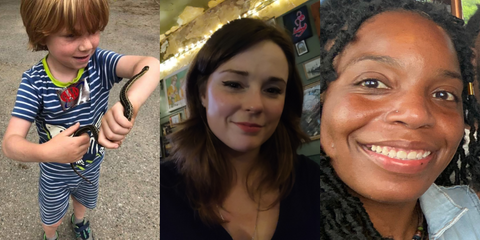 Thank you to all who submitted applications this past month. After many hours of reading and deliberation, we're thrilled to announce the winners of our October 2021 Touch of Hope.
Carrie Young (Left) 
Both Carrie and her son have health problems related to chronic Lyme and coinfections (Bartonella and Babesia). They struggle daily, especially with a wide variety of nervous system symptoms. Her son, in particular, has all the symptoms of ADHD and PANS, although they haven't received a formal diagnosis. He struggles greatly with self-regulation. The doctor says this is because of the damage that these infections have caused to his nervous system. Her son is currently in treatment, but it is a long road, and the treatment often makes him feel worse. Carrie would love to have a way to help him release his stress and calm his nervous system. She'd love for him to be able to see that this isn't who he is! This whole experience has taken a big toll on his self-esteem. As a mother, she can clearly see that he is so much more than all these struggles, but he often cannot see that and gets down on himself. Carrie believes TouchPoints could help him find that calm place even before they complete the treatment, so that he can feel better, function better, and see past these struggles to his innate worth. We are beyond happy to be able to gift her a set! 
Chelsea Birnell (Middle)
Chelsea experiences ongoing health complications from a head injury 7 years ago. The biggest has to do with being "stuck" in fight or flight. She looks for devices to correct ANS dysregulation, and to actively bypass stress and promote calm. For her, finding anything that helps translates into exponential improvements in her life, considering that her TBI symptoms can compound and move from inconvenient to debilitating fast. We feel blessed to be able to gift her a set of TouchPoints and hope they help better her life. 
India Bass (Right) 
India is a Licensed Mental Health Counselor trained in EMDR in Miami, Florida. Aside from being contracted with a private practice, she works and volunteers in low income and high crime areas that are much too often overlooked as far as aid and healing. Her mission as an EMDR therapist is to help heal the community by addressing trauma and mental health issues in children and adults. One of her EMDR consultants recommended TouchPoints and she's been reading about the product. She would love to be able to try them with the clients she works with. Using textile bi-lateral simulation for EMDR has been a wonderful experience. She can only imagine how great it would be if her clients with so many concerns, excessive worries, and lack of healthy coping skills could have easy access to calmness. We are excited to gift her a set and hope they help her community! 
We are currently accepting applications for the Touch of Hope Scholarship Program. The deadline to apply is the last day of every month and awards are chosen at the beginning of the following month. Applicants seeking assistance with the Touch of Hope Scholarship form should reach out to the TouchPoints Customer Service team at (877)-778-6824. For all other inquiries, including questions about the program and eligibility requirements, please email hello@thetouchpointsolution.com.
Posted in

ADHD, Anxiety, Autism, EMDR, Health, Moms/Families, Parkinson's, Productivity, Sleep, Stress, Work Stress