Revolutionizing First Responders' Mental Health with Neuroscience:
Applying automated bi-lateral stimulation to on-the-field care
First responders face profound stress from constant exposure to high-pressure and potentially traumatic situations. The demands of their job, long hours, trauma exposure, and split-second decision-making can lead to heightened stress levels. This stress can result in various psychological and physical health issues, including burnout, compassion fatigue, anxiety, depression, sleep disturbances, substance abuse, and an increased risk of cardiovascular problems.
TouchPoints offer a passive, non-invasive solution to help address the impacts of stress on first responders. One of the key features of TouchPoints is BLAST (Bi-Lateral Alternating Stimulation Tactile), a technology that utilizes gentle vibrations to activate the bilateral stimulation of the body. This stimulation has been found to reduce stress and promote relaxation, potentially mitigating the negative effects of chronic stress experienced by first responders.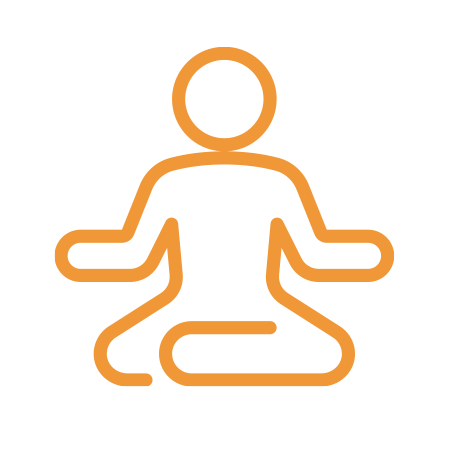 TouchPoints are designed to provide quick and effective stress relief, which can be particularly important for first responders who often face high-pressure situations that can cause significant stress and anxiety.
IMPROVE FOCUS AND ALERTNESS
TouchPoints can help improve focus and concentration, which is crucial for first responders who need to stay alert and focused on the task at hand in high-stress situations.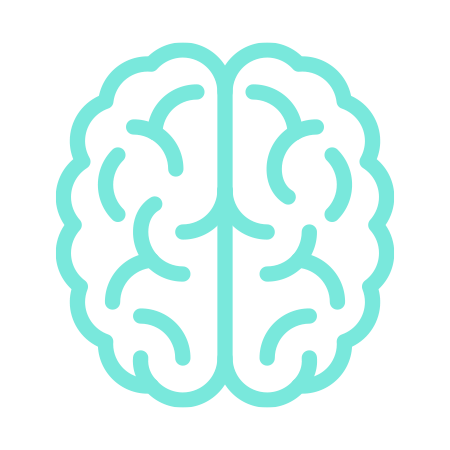 TouchPoints can help enhance performance in daily activities, which can be particularly important for first responders who need to perform at their best during emergencies.
TouchPoints can help improve sleep quality and quantity, which is critical for first responders who need to be well-rested and alert during their shifts.
available grants to cover cost
Community Oriented Policing Services Grant Program
The COPS Grant Program provides funding for initiatives that enhance the overall well-being of law enforcement officers, including mental health support, stress reduction programs, officer wellness training, and physical fitness programs.
Assistance to Firefighters Grant Program
The Assistance to Firefighters Grant (AFG) Program provides funding for health and wellness initiatives within fire departments, including physical fitness equipment, health screenings, mental health resources, and training programs that focus on firefighter wellness and safety.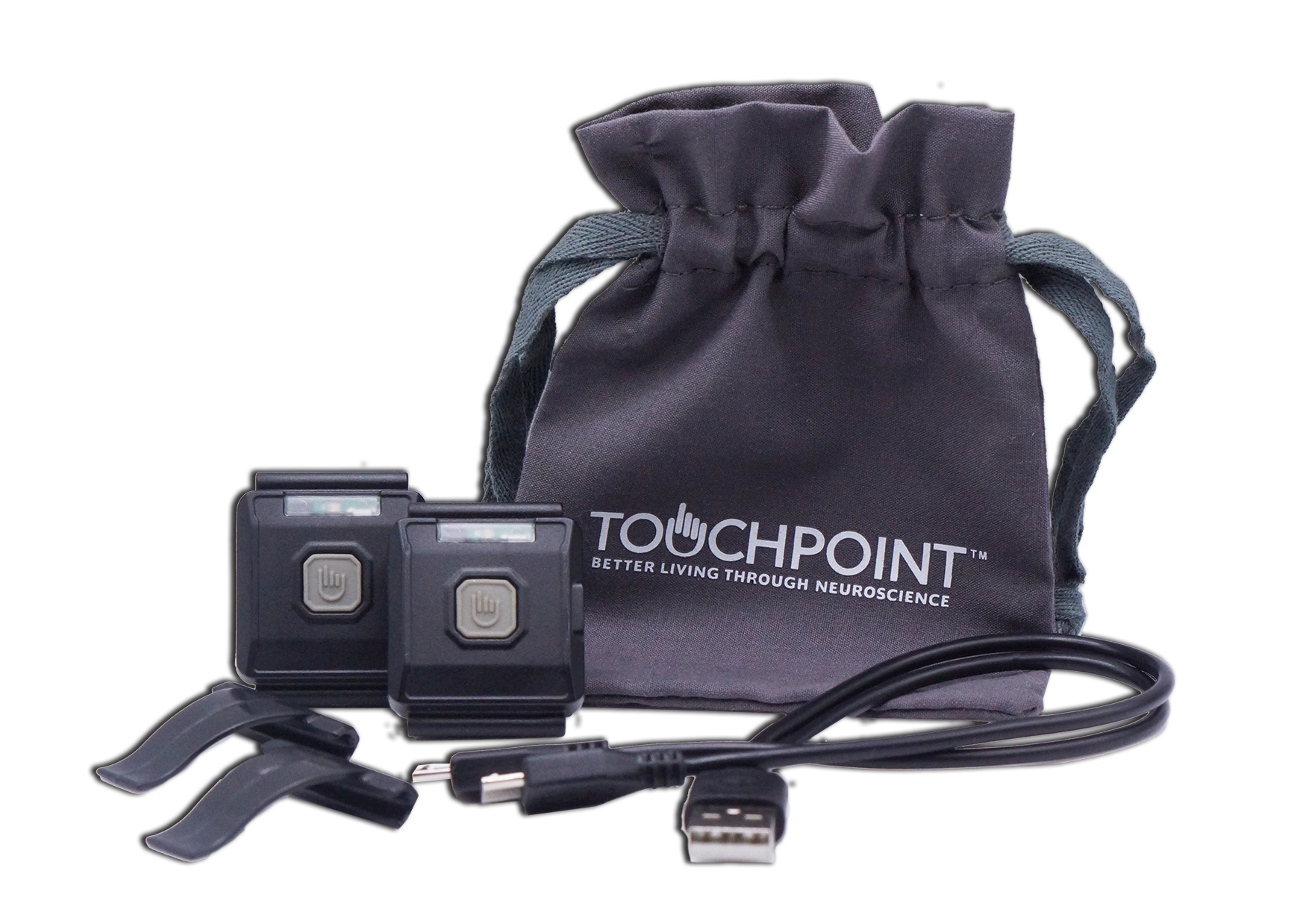 TouchPoints are small, wearable devices that are easy to use and maintain, making them an ideal stress management solution for busy first responders who may not have a lot of time to devote to self-care.
First responder and veteran organizations are invited to join our 60-day Demo Program and get 50% off a set of TouchPoints to try. If you join our Wholesale Program, we will refund your initial purchase. If not, you can keep the set of TouchPoints at this deeply discounted rate.
Join the growing number of organizations who offer TouchPoints to help first responders and veterans manage stress and anxiety and prevent burnout. We offer deeply discounted rates on TouchPoint orders of 10 or more units. This allows you to purchase products upfront at a low cost to improve the overall well-being and performance of your team, and ultimately provide better outcomes for the community you serve.
Quantitative Electroencephalogram Data
Our study involving quantitative electroencephalogram data clearly shows a reduction in brain wave activity in areas associated with anxiety (beta waves). TouchPoints' patented BLAST (bi-lateral alternating stimulation-tactile technology) alters the body's "fight or flight" response caused by stress. The wearables emit vibrations that disengage your standard stress response which can impact your performance and health.
And the results have shown to be life changing. This unique process of shifting from one brain area to another has been proven to create new behavior patterns that lessen your reaction to stress over time.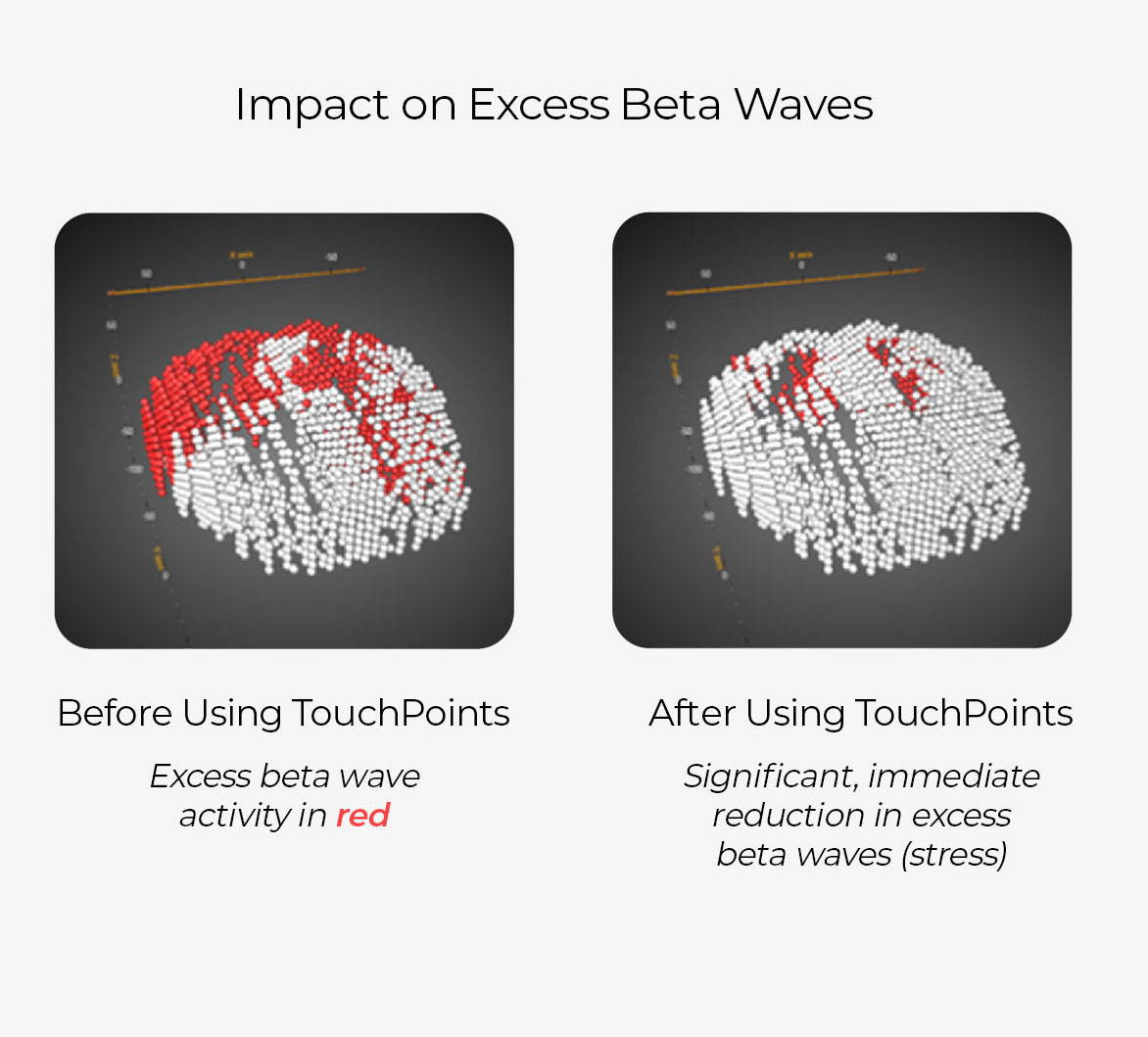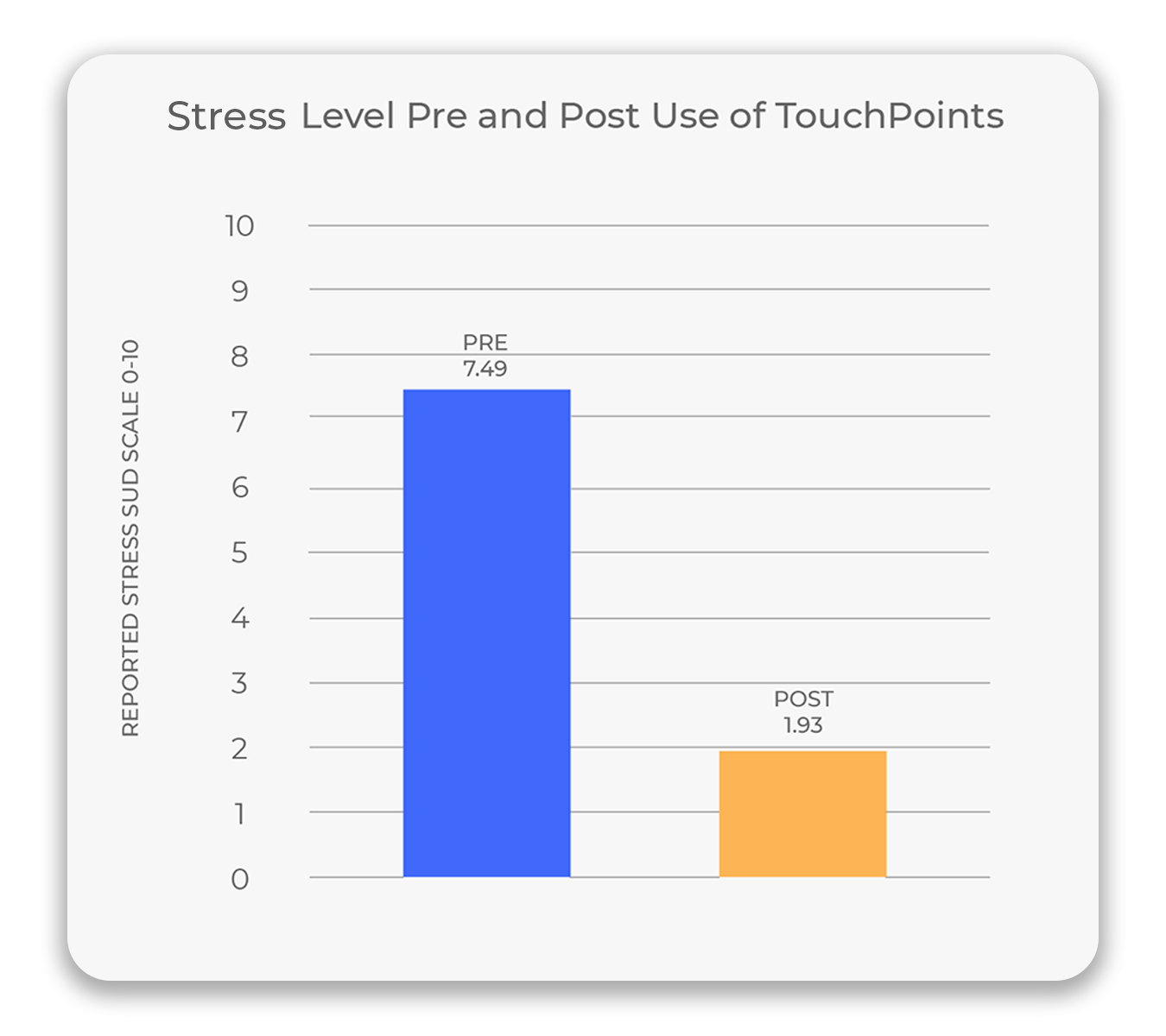 Research-Proven measurable impact
74% Reduction in Stress in 30 Seconds
The data showed that within just 30 seconds of using TouchPoints, people experienced a 74% reduce in their stress levels and a 68% reduction in body sensations related to stress. This data combined with our archived data suggest that there is a consistency in offering users significant relief from physiological and psychological stress in about 30 seconds. View our full Stress Study.

There are lots of ways to wear TouchPoints, as long as you place one on the right and one on the left side of your body.
Apply Today For Your TouchPoints Demo
STEP 1: Complete the form below

STEP 2: Our team will email you an invoice with a courtesy 50% discount

STEP 3: Your order will ship within 5 business days after the invoice is completed, and you will have a 60-day demo period from the date you receive the TouchPoints

STEP 4: Book your complimentary consultation with one of our Customer Experience specialists

STEP 5: You have 60 days to try TouchPoints out and decide if you want to join the Wholesale Program. If you join the Wholesale Program, we will refund the cost of the initial set and you are then able to purchase products upfront at a low cost to provide an added benefit to patients. If you decide not to join the program, you can keep the set of TouchPoints at this deeply discounted rate.
NOTE: Offer only open to the U.S. and Canada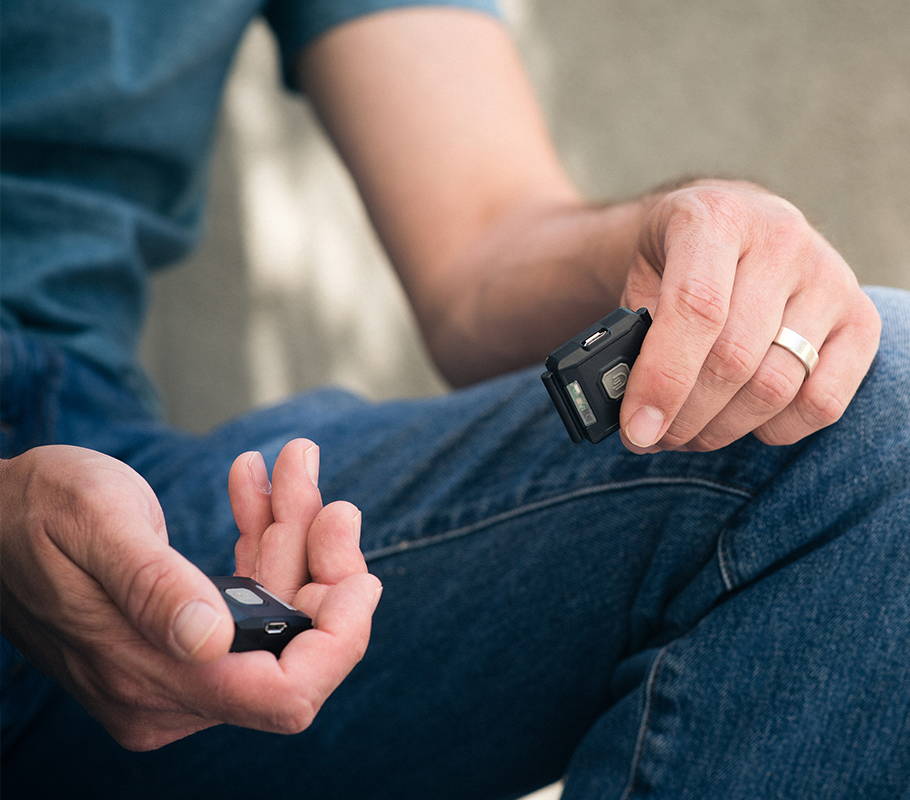 "My first appointment for the day was a 71 year old Vietnam War Veteran with severe PTSD, past hospitalizations for PTSD at the VA, and a pattern of showing up at the clinic about once a year in acute distress then not following through with any treatment recommendations. While he was describing his current inability to sleep and intense anger, I offered him the TouchPoints to hold. After a few minutes ... he reported: "I feel very calm, like I could sleep". We then arranged for him to take the set home. [He] came for a follow up appointment, reported sound sleep for 6.5 hours, and asked if he could continue to use the touchpoint units at home. "
My wife & I have been full time RVing for 3 mos & have traveled >3500 mi so far. I typically get very stressed & anxious while driving in cities & other congested areas. I have PTSD from Vietnam and can become anxious & frustrated in an instant which is quite stressful for my wife. I discovered TouchPoint & ordered. I received it while in Houston, TX where I strapped them on. My wife was immediately impressed with how relaxed I became & how I was no longer yelling at how other drivers needed to take a "driver's training class!!" I also felt much more relaxed & comfortable even while driving in congested areas! Also whenever I am anticipating an "anxiety producing" moment I have been wearing TouchPoint to help reduce my anxiety by 50%+ !! My wife & I are VERY impressed with how well the TouchPoint product helps reduce my anxiety!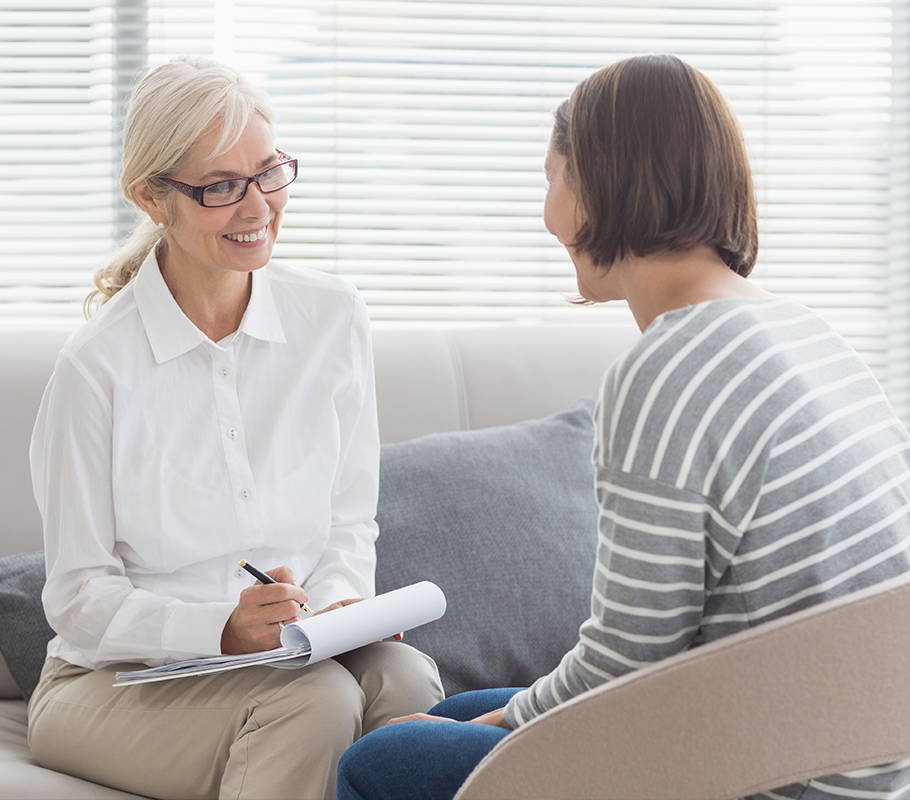 "I use these in my therapy practice now (I'm a psychologist) and have had multiple clients buy them for themselves after having wonderful results in my office. They are a wonderful product, especially for some of my PTSD clients."