sIMPLE STEPS TO MANAGE STRESS

Stress engages our "fight or flight" response, impacting our health, focus, sleep and performance.

TouchPoints, placed on both sides of the body, gently vibrate to activate your "calm" response.

In seconds, you gain control over your stress, thinking clearly and experiencing a sense of balance and calm.

This process creates lasting new behavior patterns, lessening the negative impacts of stress over time.
There are lots of ways to wear your TouchPoints, as long as you place one on the right and one on the left side of your body.







THE SCIENCE BEHIND THE "MAGIC"
TouchPoints work by altering the body's stress response with scientifically-proven BLAST (Bi-lateral Alternating Stimulation Tactile) technology. BLAST uses gentle, alternating vibrations on each side of the body to shift your brain from your default "fight or flight" response to your calm and in-control response. Over time, TouchPoints retrains your body, creating new behavior patterns that lessen the negative impacts of stress.
TouchPoints are non-invasive and safe for use by adults and kids to relieve stress without drugs or side effects.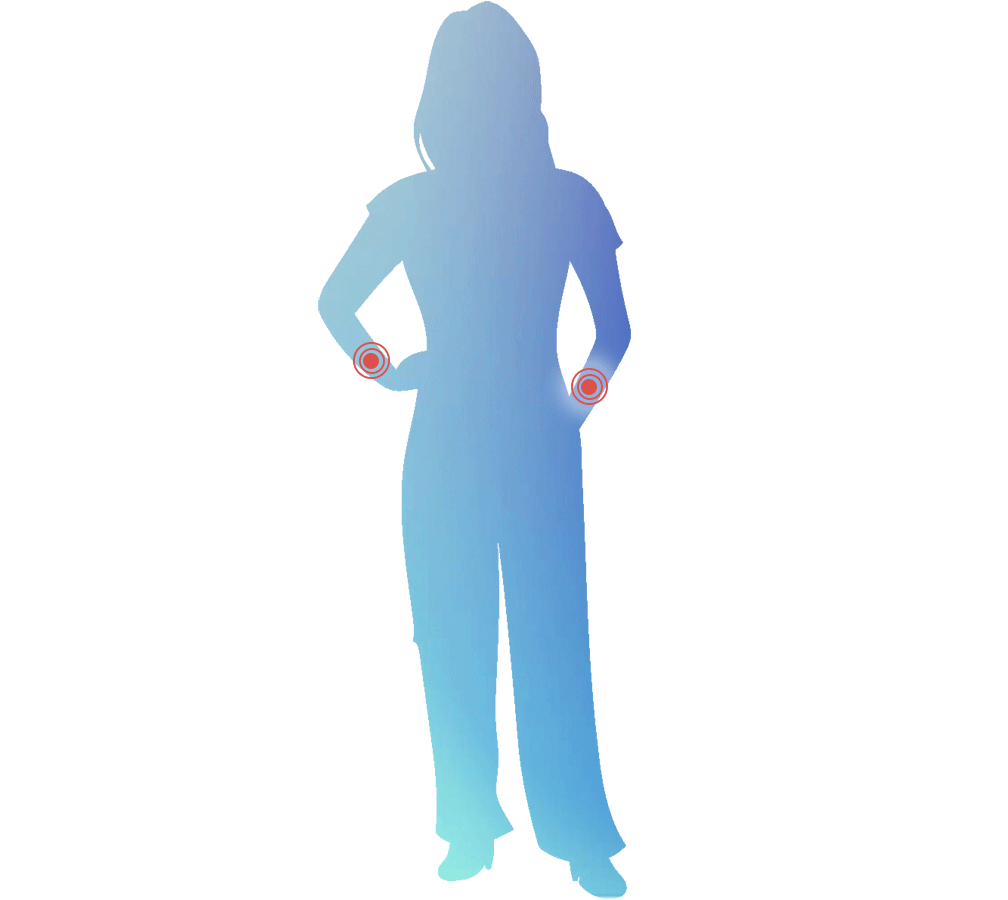 Research participants experienced a 74% reduction in their stress levels within 30 seconds of using TouchPoints

Clinical study shows TouchPoints helped participants fall asleep within 15 minutes and reduce wakefulness by 80%

Research shows TouchPoints improve focus and the ability to concentrate by 50%

Applied BLAST Evidence from Quantitative Electroencephalogram
This study used quantitative electroencephalograms to measure the impact of TouchPoints on stress. The results showed a significant decrease in excess beta waves (stress) after using TouchPoints.

Effect of Bilateral Alternating Somatosensory Stimulation on Reducing Stress-Related Cortisol
This triple blind placebo-controlled trial with athletes showed TouchPoints stabilized cortisol levels during stressful events and reduced the level of stress points even when cortisol traditionally spikes.

Impact of TouchPoints on Stress Reduction
Analysis from 140 TouchPoints users' data showed that within 30 seconds of using TouchPoints, people experienced a 74% reduction in stress levels and 68% reduction in body sensations related to stress.

BUY NOW PAY LATER
PAY IN 4 WITH KLARNA
30-DAY MONEY
BACK GUARANTEE
COMPLIMENTARY
CONSULTATION