December 2020 Touch of Hope Scholarship Winners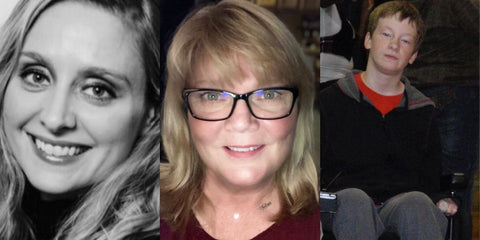 Thank you to all our December submissions. After many hours of reading and deliberation, we're thrilled to announce the winners of our December 2020 Touch of Hope:
Marielle Horan (Left)
Ever since her first mono diagnosis 13 years ago, at 24, Marielle has felt unwell. Doctors attributed her fevers, nausea, chronic fatigue, inner ear pain, pelvic floor dysfunction and countless infections to Chronic Active Epstein Barr Virus Disease (CAEBV). Marielle adapted and persevered, despite her limitations and reduced quality of life, often missing work and social functions. In 2018, she was rushed to the ER twice with chest pain and trouble breathing, and diagnosed with costochondritis (inflammation of the rib cage). Marielle noticed her cuts weren't healing, her limbs were burning and her hair starting to fall out, along with muscle and skin pain. In the spring of 2019, her conditions proliferated: head-to-toe numbness and tingling, full-body muscle spasms, tachycardia, heat intolerance, freezing thigh muscles, ovarian cyst and electrolyte imbalance resulting in terrifying disorientation. CAEBV was blamed for these new neurological symptoms, and dehydration for the rest. 
 One morning in August 2019, while traveling in between jobs and apartments, Marielle went to stand and her blood pressure crashed. She has since suffered from the most severe and complex symptoms doctors have ever seen: sensation of being on a rocking boat or in a descending elevator (with palpable thuds); dizziness; sensations of quaking, swaying, vibrating, drilling, falling, sinking and floating away - even while motionless; distinct heaviness in the body; slamming and pressure sensations in the brain; brain fog/disorientation; tinnitus; nerve pain from head to toe; numbness in the face and tongue; head inflammation; visual disturbances; tachycardia; heart palpitations (even during sleep); 75% lung capacity; chest pain; muscle weakness, stiffness, pain and spasms; circulatory problems; burning extremities with cold flashes; debilitating fatigue; extreme temperature fluctuations; and diarrhea. 
Over the course of the next two months, Marielle visited the ER five times and learned through specialized testing that her liver was enlarged (three times the normal size) and that she had:
Late-Stage/Advanced Neurological Lyme Disease 
Severe Black Mold Poisoning (2 different carcinogenic strains) 
2 Infected Root Canals 
POTS (Postural Orthostatic Tachycardia Syndrome) 
MCAS (Mast Cell Activation Syndrome) 
Epstein Barr Virus 
Cytomegalovirus
Mycoplasma Pneumonia
Candida
SIBO (Small Intestinal Bacterial Overgrowth) 
H. Pylori + Intestinal Dysbiosis 
Estrogen Dominance
Pulmonary Dysfunction 
Chronic Fatigue Syndrome
If you know Marielle, you know how special she is - compassionate, empathic, loving, talented, creative, witty, optimistic, energetic, resilient. She is a brave survivor, but she is suffering tremendously and, without employment and a stable home, Marielle needs help to fund the long journey ahead: funds for high-level specialist care with further testing and treatments, medications, groceries and a safe, stable place to live (if you know any rent-free spaces with no known mold problems please reach out; she is currently at high risk and quarantining in a temporary space in Seattle). The doctors who specialize in complex biotin illnesses, multitudinous around major cities, are not covered by health insurance (especially Medicaid). Her family expects $44,000 to cover her medical and living expenses for the next six months based on price quotes from medical providers, estimates based on similar patients' protocols, knowledge of the rental market, grocery expenses and rideshare costs, with to-the-dollar prices given where possible. Her
GoFundMe page
will be updated with all developments - please share it with everyone you know and ask them to share it with their networks (via social media using the hashtag #helpmarielleheal) to help our cherished friend keep going and lead a happy, healthy, full life. 
Team TouchPoint is rooting for Marielle and her family and feels elated to be able to gift her a set of TouchPoints.
Sharon White (Middle)
Sharon is a Nationally Certified Guardian for adults 21-96 years old with a cognitive incapacity that leaves them unable to make decisions on their own. She works for the state to help these individuals through a grant-funded not for profit program, and this job as you can imagine is tough under the usual circumstances without a global pandemic. Sharon's been experiencing some difficulties and has looked to TouchPoints for help! We're happy to be able to gift her a set and hopes that it's a source of help along her journey. 
D. Bardell (Right)
When Bardell was born, his skull was crushed, causing Cerebral Palsy. It affects his speech, muscles, and neuro system. His body is naturally at a heightened state because his brain is always sending extra signals. As you can imagine he's definitely been through a lot, especially with a disability. He's mentioned people underestimate him all the time, and it's arduous to keep moving forward sometimes. But through it all, he's managed to receive BS degrees in mathematics and computer science, and graduated with distinction. We commend him for his strength and wish him the best of luck in his search to find a job as a software engineer. We're hoping his new TouchPoints will be able to help land him the perfect it!
We are currently accepting applications for the Touch of Hope Scholarship Program. The deadline to apply is the last day of every month and awards are chosen at the beginning of the following month. Applicants seeking assistance with the Touch of Hope Scholarship form should reach out to the TouchPoints Customer Service team at (877)-778-6824. For all other inquiries, including questions about the program and eligibility requirements, please email 
hello@thetouchpointsolution.com
.