December 2021 Touch of Hope Scholarship Winners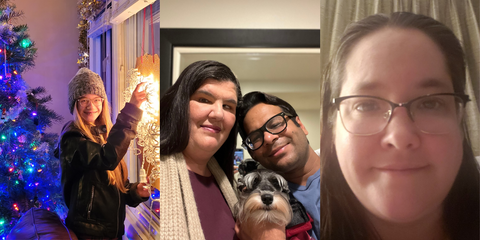 Thank you to all who submitted applications during the busy holiday season. After many hours of reading and deliberation, we're thrilled to announce the winners of our December 2021 Touch of Hope.
Andrea Boyd (Left) 
Andrea has applied for her 11-year-old daughter with severe anxiety who has recently started pulling her hair out as a nervous habit. She has pulled out her eyelashes and the top of her hair to the point what there are noticeable patches. Andrea believes that TouchPoints would greatly benefit her daughter and we are happy to be able to gift her a set. 
Arabella Bianchi (Middle) 
20 years ago Arabella's husband at the time threw her down a flight of stairs, forever altering her life physically and emotionally. Anxiety became her best friend, worst enemy, and constant companion. Physically, seven herniated discs and a cervical spinal fusion put her back together, only for her to find out weeks later she has Primary Progressive Multiple Sclerosis. As if her life hadn't already changed! Now stress has become enemy number one. Years of therapy have helped make a difference, but panic attacks are still a daily occurrence. Medications only help so much and while she continues to do the therapy work needed, she finds herself in desperate need of another avenue to find calm. It's her fervent hope that she may have the opportunity to use TouchPoints to bring much needed calm and balance to her daily life, which in turn may mean less anxiety and fewer relapses of her multiple sclerosis which is triggered by her stress and anxiety. We're excited to gift her a set and hope that they're a huge help along her journey. 
Katrena Smith (Right) 
Katrena lives with Fibromyalgia and has been dealing with debilitating pain for over 12 years now. She has a family of four kids and her husband, who has been diagnosed with Parkinson's Disease. They all come together to try and take care of each other. Katrena wants to be able to be there for her family. She unfortunately cannot work and has many days that she simply can't get out of bed. Her anxiety around leaving leaving the house makes it hard to participate with the family. Katrena hopes TouchPoints will have a positive effect on her body so she can regain control over her pain and her life. 
Carla Stowe (Not Pictured) 

Carla Stowe is Manager of the Center for Women and Children at the Miami Rescue Mission, a non-profit organization that serves individuals and families that struggle with homelessness, substance abuse, and mental illness. She serves countless single women, mothers with children that come to the center for shelter an assistance. These are families fleeing domestic violence, human trafficking, and trauma, and they do not have a support system. 
Carla has applied for one of her program resident's teenager, a thirteen-year-old daughter of a single mother by the name of Maria Solange. Solange and her mother have been victims of domestic violence, they have been shot at, witnessed murder and were sexually abused. Because of all the trauma they've experienced together, Solange struggles with severe anxiety when around people, she spends all of her time in isolation, and has trust issues. Solange is receiving therapy, but still struggles with a high level of anxiety. Solange and her mom have no source of stable income, housing and support. We feel grateful to be able to gift her a set and hope they'll help make a difference in her life. 
We are currently accepting applications for the Touch of Hope Scholarship Program. The deadline to apply is the last day of every month and awards are chosen at the beginning of the following month. Applicants seeking assistance with the Touch of Hope Scholarship form should reach out to the TouchPoints Customer Service team at (877)-778-6824. For all other inquiries, including questions about the program and eligibility requirements, please email hello@thetouchpointsolution.com.