January 2022 Touch of Hope Scholarship Winners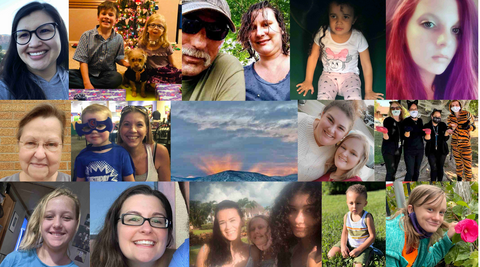 Thank you to all who submitted applications as we ring in 2022. After many hours of reading and deliberation, we're thrilled to announce the winners of our January 2022 Touch of Hope.
Haley Davis
Haley applied for a scholarship on behalf of her wife, Jenna, who struggles with anxiety and ADHD. Jenna teaches a functional academics class for 3rd-5th grade students with Autism Spectrum Disorder. Haley says Jenna has been a blessing in her life and it hurts her to watch her wife struggle. Together, they have a 5-year-old who also suffers from ADHD, and it becomes difficult to handle when they both become dysregulated and emotional. We're excited to gift Haley a set of TouchPoints and hope they'll help her wife and daughter better regulate daily during class and at home. 
Laci Self
Laci never used to be a super anxious, stressed out person until she had three kids. Two of which battle cystic fibrosis. It started with not being able to endure the many doctor's appointments and now she struggles with panic attacks while driving. We are excited for TouchPoints to get her on the path to less stress! 
Angie Webb
Angie's first experience using TouchPoints was in counseling. There were many events that left her in a difficult mental and emotional state. When trying TouchPoints in counseling she could feel her physical response to wearing them as she talked about all that was happening in her life. Angie described it as, "the fog and chaos in my mind would clear allowing our time together to be focused and purposeful." We are excited to help Angie have access to stress relief at home with her own set of TouchPoints!
Amy Carte
Amy and 3 of her 4 children struggle with PTSD and anxiety due to abuse. Although they have been through many years of therapy they still suffer from insomnia and anxiety attacks. We are happy to award a set of TouchPoints to this household to aid in their healing process.
Kathleen Robson
Kathleen has endured multiple brain bases surgeries and struggles with many medical issues including lipoatrophic diabetes, severe Raynaud's, Dupuytren's Contracture, trigger fingers, osteo, rheumatoid, and Shogren's arthritis. She is having a very difficult time getting to and staying asleep. Sometimes it can take 3 to 5 hours with the anxiety/stress she is having and her mind simply cannot "sit still".  We hope with her new TouchPoints, Kathleen will be able to calm her mind faster and get a better night's rest.
Frances Swanson
Frances is an elementary school teacher that struggles with constant stress and anxiety. Struggling with so many unknowns within their classroom and always feeling like expectations are impossible to uphold and the stress never ends. We are hoping integrating TouchPoints into their breathing techniques and regular pilates routine will help them find their "calm" again. 
Miranda Baker
Miranda's 4 year old daughter has autism, global growth delay, sensory processing disorder and agensis of the corpus collosum. She has a difficult time self-regulating however she does well with compression and vibration. We believe TouchPoints will be a great fit to help her daughter regulate her stress and anxiety! 
Heather Freed-Oliver
Heather's 12 year old daughter has been on ADHD medication since she was 4 years old and struggles with sleep. It is making her debilitating anxiety worse. After other methods have failed to help Heather's daughter, we are hoping her new TouchPoints can bring some relief and a better nights rest for her! 
Cortlandt Creed
Cortlandt's son is 3 years old and non-verbal. He has been diagnosed with level 3 autism and is constantly in fight or flight which affects his eating. He has had extensive feeding therapy with slow gains. When he is able to calm down he is able to eat more! We hope TouchPoints can shift him out of his stressed state and continue to make nutritional milestones. 
Amber Herr
Amber's daughter, Luna has always struggled with medical issues due to being born premature at 28 weeks. She has uncontrollable anxiety. We are hoping TouchPoints will give her a safe way to manage her stress and relief her anxiety! 
Wendi Beason
Wendi is a stay at home mom with a medically complex child, Hannah, and a behaviorally complex child, Sheldon. The stress to find what both of her children need and the constant lack of sleep has her always in survival mode. TouchPoints were recommended to Wendi for help with her medical PTSD and to help her get the most out of her sleep. We are happy to gift a set of TouchPoints to help her regulate her everyday life! 
Michelle Wiekart
Michelle has suffered from depression, anxiety, ADHD, insomnia, and PTSD due to abuse and life situations. We are hoping TouchPoints will bring her some peace into her life and help her with overcoming all her trauma and stress. 
Karen Phillips
Karen is a single mom to an 8-year-old boy who has ADHD and learning disabilities. She is looking for alternatives to medication to help him calm down. It is our hope that TouchPoints will help her son focus and thrive while learning!
Mandi Barrett
Mandi is a Clinician and is currently working with a youth that has experienced a lot of trauma. He frequently experiences body sensations caused by stress like increased heart rate, headaches, upset stomach, muscle tension, chest pain, and insomnia. He also experiences a lot of anger. All of these things cause him to have difficulty getting along with other members of his household. We are happy to award this young man a set of TouchPoints and thank Mandi for going above an beyond for the children she helps.
We are currently accepting applications for the Touch of Hope Scholarship Program. The deadline to apply is the last day of every month and awards are chosen at the beginning of the following month. Applicants seeking assistance with the Touch of Hope Scholarship form should reach out to the TouchPoints Customer Service team at (877)-778-6824. For all other inquiries, including questions about the program and eligibility requirements, please email hello@thetouchpointsolution.com.