Dressage for a Cause- Raising Awareness about Epilepsy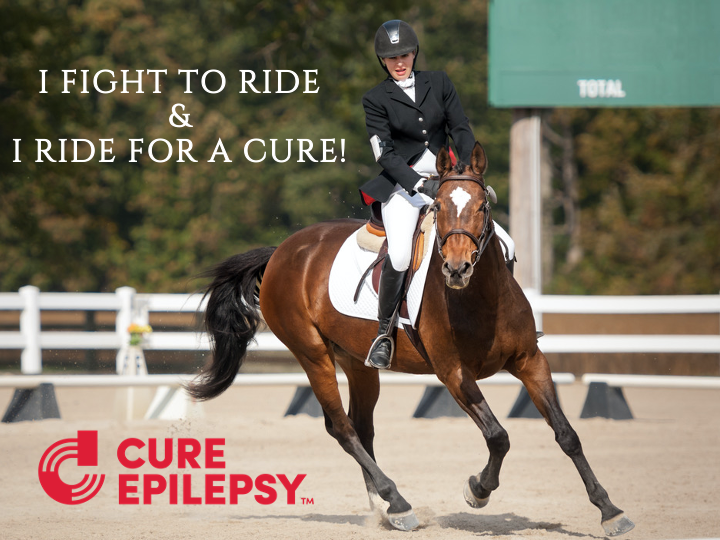 DRESSAGE FOR A CAUSE
Interview with TouchPoints Founder Vicki Mayo and Channing Seidman, who rides horses to raise awareness about Epilepsy
I am pleased and honored to share the story of Channing Seideman with you today. Channing and I had a chance encounter when she submitted a donation request to my company TouchPoint Solution, makers of the revolutionary stress relieving devices. Channing was seeking donations for an event she is hosting in November to raise funds for the organization, CURE Epilepsy. Out of the hundreds of requests we get a month, my team escalated her request to me because they noticed that she, like myself is a horse lover. Channing and I connected, and her story is so powerful and inspiring I felt compelled to share it with you. 
Tell me about you and your horse.
My name is Channing Seideman and I am 29 years old. I had my first seizure at the age of 9 and was diagnosed with refractory epilepsy shortly thereafter, meaning that - while approximately 70% of people diagnosed with epilepsy are able to manage their seizures with medication - unfortunately, I am one of the 30% whose epilepsy is non-responsive to medication.
I have a 22-year-old Holsteiner mare named Perla who has been a part of our family for 13 years.
Tell me how your got interested in horses and dressage in particular?
When I was 5, I visited my grandmother in Arizona. She took me on a pony ride, and it was a done deal after that. Yup, the world has revolved around horses ever since!  I started out jumping. I was a die-hard jumper. Dressage didn't come into my life until one time Perla had a really bad abscess, which we needed to treat 2x/day, but the barn where she was boarded was 45 minutes away. So we moved Perla to a barn closer to the house, and as it turns out, there was a dressage trainer there, and I watched part of the lesson and caught an interest. Then, when Perla's abscess healed, I took a dressage lesson with that trainer, and I can honestly say she did not know what to think of the jumper in Perla. I think we went around in a circle the entire time working on suppling. In the end, she definitely corrupted me into loving dressage, and once Perla's abscess healed, we moved to a dressage barn – Majestic Farm – where I remain to this day!! Once I got that feel… it's that cool feeling of communicating with your horse that you just can't stop. This was about 6 years ago. Right now we are working on Second Level and First Level Freestyle. We hope to start Third Level movements soon!
You are an ardent spokesperson for Cure Epilepsy. Tell me about the organization and what you do with them?
The organization that I work with is CURE Epilepsy, the second largest organization (next to the US Government) in advancing research for Epilepsy. One of the ways they do that is through a program called CURE Champions. CURE Champions are people who have been impacted by epilepsy and raise money on behalf of finding a cure. The champions hold events to raise funds, and my platform is Dressage for a Cause, which consists of an annual horse show at Majestic Farm plus a raffle. In 2019, we held our first CURE Champions event and my barn family was right behind me with their support! They donated items for the raffle, in addition to highlighting purple which is the color of Epilepsy. They asked the competitors to wear purple, surrounded the arena in purple pumpkins and flowers, and there were purple ribbons.
In 2020, our event was disrupted, but not by COVID like it was for so many, but by epilepsy. That morning I woke up having seizures and I wasn't able to make it to the farm for my own fundraiser!
I was devastated because I fight for other Epilepsy warriors like me who can't participate in their passions either, because their epilepsy prevents them from doing so. And they're the reason I ride – to help drive awareness about the debilitating effects of treatment-resistant epilepsy! The next day, however, I dragged myself to the barn. I had the headache from hell, which often happens after I have a seizure and which normally would prevent me from putting on my helmet. But then I remembered Roman the Warrior, an Epilepsy Warrior in Austria who has to wear a helmet, not for horseback riding but for seizures. I remembered Roman and put on my helmet and got in that arena and rode - for Roman and all the Epilepsy Warriors. We made it happen and it was great!
This year, we are doing the Purple raffle again. The Raffle is open from Oct. 17 – Nov. 10, and you can purchase raffle tickets and contribute via this link. Our goal is to raise $100,000 for a research grant awarded by CURE Epilepsy in partnership with the Cameron Boyce Foundation. We have already raised $24,000 of our $100,000 goal.
You have the podium - if you could express just one thing to the person residing this article what would it be?
There's always been a stigma around epilepsy. In fact, many people are hesitant to even say the word. But if we can't talk about it, then we can't find a cure. So please help us raise awareness about epilepsy by talking about it. It's okay to say the word! And once we start doing that, it will be easier to find a cure so that others like me can have their own ride of a lifetime.
Cure Epilepsy
CURE Epilepsy was founded in 1998 by a group of parents desperate for answers to save their children. Since then, CURE Epilepsy has led a dramatic shift in the epilepsy research community from simply treating seizures to enhancing understanding of underlying mechanisms and causes so that cures and preventative strategies can be found.
From creating groundbreaking initiatives on SUDEP and genetics, to developing a team-science approach to study post-traumatic epilepsy for the U.S. Department of Defense, we remain laser-focused on funding research to find the cures for epilepsy.