TouchPoint Solution Joins WearTech Applied Research Center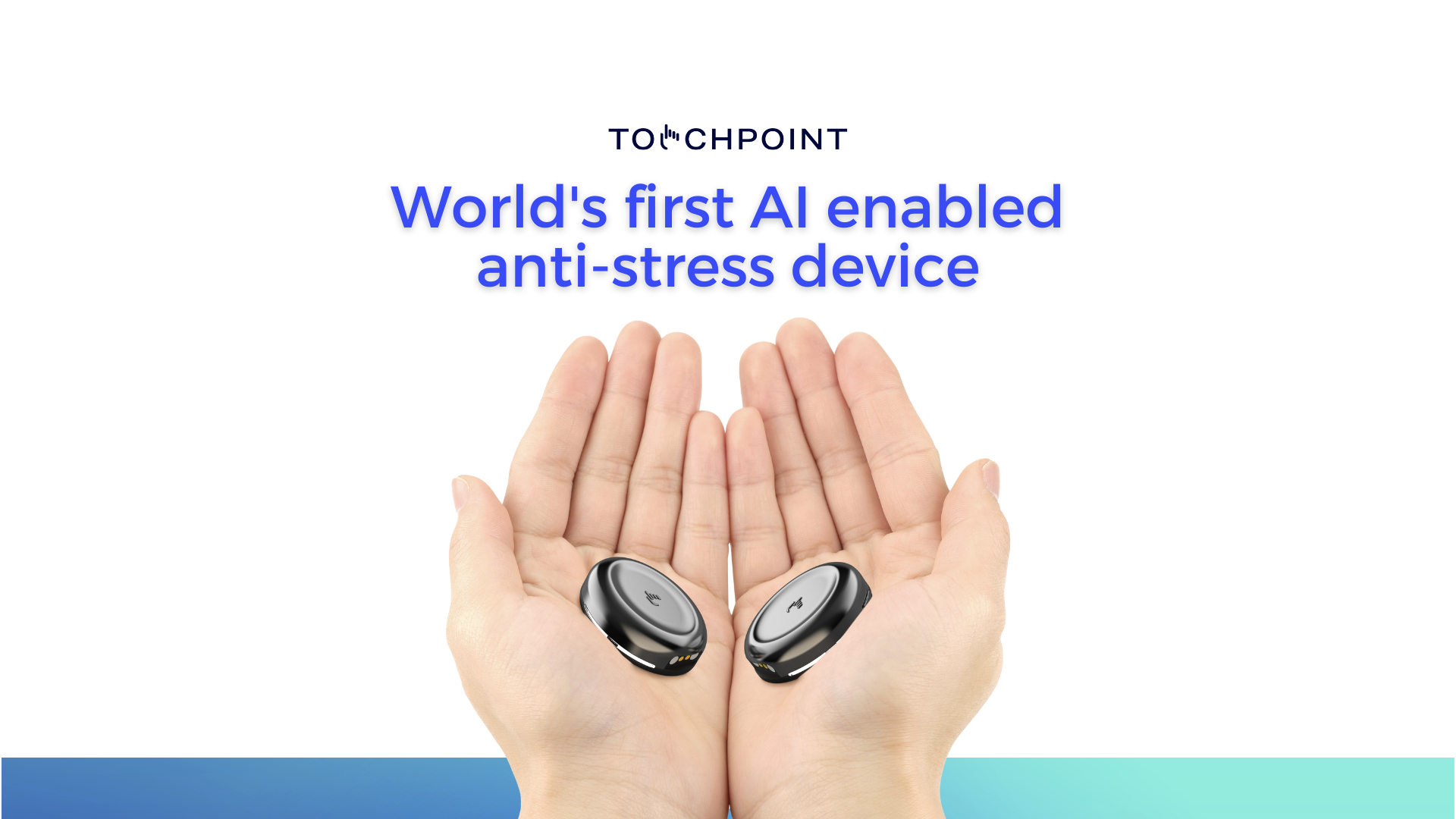 World's first AI enabled anti-stress device goes from lab to market with the potential to help millions
Phoenix, AZ August 8th, 2022 — The Partnership for Economic Innovation (PEI), a passionate collective of business and community leaders dedicated to accelerating Arizona's economic opportunities, is connecting researchers at Arizona State University's Luminosity Lab with industry experts at TouchPoint Solution to develop and commercialize healthcare technology through the WearTech Applied Research Center.  TouchPoint Solution partnered with the Wear Tech Applied Research Center to utilize it's patented   scientifically-proven BLAST® (Bi-Lateral Alternation Stimulation Tactile) Technology along with the development of it's new AI tech to create the World's first AI powered stress relieving device.
At the WearTech Center, TouchPoint will follow the applied research model which accelerates product development and commercialization via collaboration with public and private sectors partners. The center will shepherd this innovative product through the idea generation, project formation, validation, and commercialization phases.
"TouchPoint's innovations and AI are dedicated to lessening the toll stress has on us physically and mentally. Leading interdisciplinary researchers at ASU's Luminosity Labs together are building a breakthrough solution that provides fast relief, improving sleep, increasing focus and creating the ability for users to stay in perfect homeostatis stopping stress and anxiety before it even begins," said Kathleen Lee, Director of Applied Research Centers for the Partnership for Economic Innovation. "The WearTech Center is providing these innovators the tools they need to accelerate product development of their wearable over-the-counter anti-anxiety device."
TouchPoint's BLAST® technology has already been scientifically validated in over a dozen academic studies. Currently TouchPoint is working on the product development of their newest AI enabled version of the device, Thodian Stones which will utilize the patented BLAST® technology to reduce users stress in seconds. Thodian Stones are meant to be utilized in conjunction with a user's smartwatch device and a companion app using a closed loop biometric function to monitor and deliver BLAST® technology in real time to manage a user's stress. Thodian Stones will be available for pre-order in Fall of 2022 with delivery and official launch in conjunction with the Consumer Electronics Show at CES in January of 2023.
"For the development of TouchPoint's newest stress-relieving device, we needed an interdisciplinary team with expertise in mechanical engineering, industrial design, app development and data scientists. WearTech helped us mitigate the risk of working across different vendors by connecting us with ASU's Luminosity Labs. They also provide oversight to make sure that our device would fit the market's needs. We could not bring this idea to life without the WearTech team's support," said Vicki Mayo, CEO and Founder of TouchPoint Solution.
The WearTech Center has so far supported the development and the path to commercialization of wearable technology projects, including a drug-free anxiety treatment device and dynamic fall risk assessment tool. The Arizona Commerce Authority recently awarded $1.6 million to support new applied research projects through WearTech. State funding matches private and nonstate funds raised by industry partners. This additional funding will support eight new projects, including TouchPoint's device, more than doubling the number of applied research projects through the WearTech Center and achieving 360% growth in total research funding compared to 2019.
Information on WearTech Center projects and more is available at azweartech.org. To learn more about the Partnership for Economic Innovation and its initiatives, visit azpei.org. 
ABOUT THE WEARTECH APPLIED RESEARCH CENTER
The WearTech Applied Research Center was created by Partnership for Economic Innovation (PEI) in 2019 to help launch a future-of-health technology ecosystem around Arizona's thriving biomedical scene. The Center offers an engineering lab and community space for innovation teams bringing disruptive IP to life. Their process connects entrepreneurs and industry to world class research teams and resources, helping through the idea generation, project formation, research prototyping validation, and commercialization of products. The WearTech Center is able to work towards its mission of growing Arizona's wearable tech ecosystem with support from key partners including the Ira A. Fulton Schools of Engineering, the Greater Phoenix Economic Council, the Center for Entrepreneurial Innovation, Startup AZ Foundation, and the City of Phoenix. Learn more at azweartech.org. 
ABOUT THE PARTNERSHIP FOR ECONOMIC INNOVATION
Partnership for Economic Innovation is a passionate collective of business and community leaders dedicated to accelerating Arizona's economic opportunities. We believe innovators are problem solvers who come from anywhere, if they have access to pathways to do so — which is why PEI is investing in community-building technology and R&D designed to make Arizona more resilient and empower innovators to bring world-changing ideas to market. PEI initiatives include:
WearTech and Blockchain Applied Research Centers are accelerating the development of emerging technology products with the potential to radically transform healthcare, keep us safer and more secure.
Pipeline AZ, a career exploration platform creating more transparent pathways to advanced industry jobs and connecting Arizona workers to any training they might need to get there.
The Connective, Greater Phoenix's internationally acclaimed Smart Region collaborative, convening cities, industries and entrepreneurs to lay the open innovation groundwork to solve regional challenges.