AZ Central - Scottsdale entrepreneurs place stress relief in the palm of your hand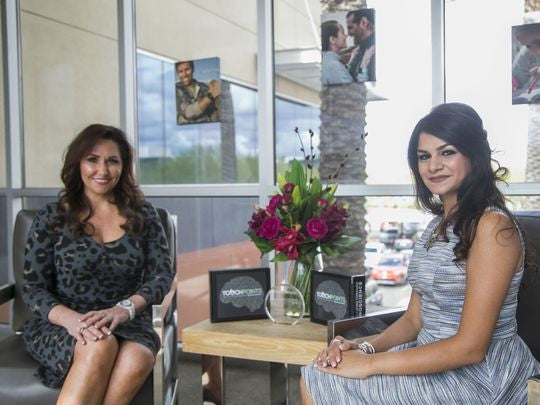 It all started with two phone calls between friends in 2015. The first was out of desperation and helplessness. The second arose from gratitude and joy.
Vicki Mayo's daughter was experiencing vivid night terrors from which Mayo could not wake her. And Mayo needed help.
"For parents, this is one of the most terrifying things ever. Your child is screaming, thrashing … and you can't wake them up," Mayo said.
She called her friend Dr. Amy Serin, a neuropsychologist and founder of the Serin Center in Peoria, and asked her for advice. This was call No. 1.
Serin had harnessed a certain technology into a handheld device but wasn't sure how it could be used. She was researching the impact of stress on children and was working to provide a solution. This device was the result of her work at that time. Serin suggested Mayo give it to her daughter during an episode.
Mayo did. It worked. Her daughter was able to calm down and go back to sleep. The next morning, she was in a great mood — which, Mayo said, never happened after a rough night.
The happy second call came from Mayo the next day.
"I called Amy and said, 'What was that voodoo magic you gave me and what are you doing about it?' " recalled Mayo, a career entrepreneur.
'This is something everyone needs'
Together, they came up with a response to that question and formed the Touchpoint Solution, a company that produces an advanced version of the original device called Touch Points —  a pair of lightweight squares that can be worn, held or clipped onto clothing. They send vibrations that the company says disengage the body's instinctive "fight or flight" response to stress. They operate using bilateral stimulation, which means they must be worn on both sides of the body  — the arms, socks, pockets, bra straps, etc. — to allow the vibrations to travel across the body, Mayo explained.
Mayo and Serin hired an engineer and worked on the product before introducing it into the market in 2016. The $240 price tag includes a set of Touch Points and the app that makes them work.
More than 5,000 Touch Points have been sold as of March, generating more than $750,000 in sales, Mayo said. They are sold through the website to customers in the U.S, Australia, Canada and the United Kingdom. They sell out quickly; in fact, the company went through a six-week dry spell during which it had several thousand requests on the wait list, Mayo said.
"It's been a whirlwind because this is something everyone needs," she said.
Mayo may be right. According to the American Institute of Stress, 77 percent of people regularly experience physical symptoms caused by stress, and 73 percent report experiencing psychological symptoms caused by stress. Forty-eight percent say they lie awake at night due to stress.
Company feedback indicates that 71 percent of Touch Points users report a stress reduction after using them for 30 seconds, Mayo said. Medical research shows similar results. Mayo and Serin have run tests on users experiencing stress and used a brain scan, quantitative electroencephalogram (QEEG), to measure the impact of Touch Points. The scan shows a 90 percent reduction in beta waves after 30 seconds, according to company data.
These results indicate it's not a gimmick or placebo effect, Mayo explains.
"It's not just a product. It's a fundamental change in how we treat stress. It's so life-changing," she said.
Clients include people with sleep difficulties, first responders, people with stressful occupations and executives. Some are companies that use them in their general wellness plans. School districts have also purchased them. A call-center company reported that its agents' ratings increased after using them, Mayo said.
Clients have found non-professional benefits, too. Mayo mentioned moms who use them while having morning coffee to get centered, give them to screaming kids in the car on the way to or from school and even hand them to husbands to diffuse potential arguments.
"This is the culture of instant everything. Most don't have the time to do yoga, meditate and be mindful. They need instant stress relief," Mayo said.
Making an impact
As a vice president of an international technology company who's always on the go, Joe DePalo rarely has the time to hit a yoga studio or do deep breathing in a quiet space for an hour when he's in a tense situation or preparing for big meeting.
When yoga and meditation apps failed to help, someone told DePalo about Touch Points.
"Medications have side effects. I was looking for non-medicine, non-traditional solutions to manage the stress and anxiety that comes from life," said DePalo, who recently relocated from Phoenix to Seattle.
He admitted he was skeptical at first. But after giving Touch Points a try, DePalo was convinced. He said it allows him to concentrate on a single thought and also break off an obsessive one, similar to when a song gets stuck in your head and you can't stop it from playing. They have helped him improve focus, and he uses them to write presentations and puts them in his pockets before and during crucial meetings.
"I use it as a reinforcement in how I manage the day-to-day business and my job," he said.
DePalo's son uses them before baseball games, and his daughter held them for a few minutes to clear her mind before taking the SAT, he said. The whole family has experienced benefits, and so has DePalo in more than just his professional life.
"I use it at home. It's helpful in setting a clear work-life balance. It's my way of decompressing and eliminates the need for a drink or a walk," he said. "It allows you to be in the moment with your family, kids and spouse."
This technology is not new. Mayo explained that PTSD victims have been receiving similar therapies for decades. But that treatment has come with a $200- to $300-per-hour price tag that involves a trip to a therapist's office.
"You don't have to take time out of your day to do yoga, and you don't have to take medications with side effects. You can do this and can keep talking to a friend or cooking dinner," she said.
Touch Points are manufactured in the United States, with the majority done in Tempe. All packaging and shipping are done by blind employees. For each set of Touch Points that's sold, Mayo and Serin donate a set to someone in need as part of their A Touch of Hope Scholarship program.
"We weren't interested in making millions of dollars. I believe it is our greatest obligation to humanity to help others," Mayo said. "It's not about the money. It's about how we can make an impact on society."
The Touchpoint Solution
Where: Scottsdale.
Employees: 20.
Interesting stat: Annual costs to employers in stress related health care and missed work totals $300 billion, according to the American Institute of Stress.
Details: 877-778-6824, thetouchpointsolution.com.
*This article first appeared on AZCentral on May 24, 2017, by Georgeann Yara, Special for The ABG. To read the full article, click here.