The Loop - 25 cool back to school items perfect for learning at home and in the classroom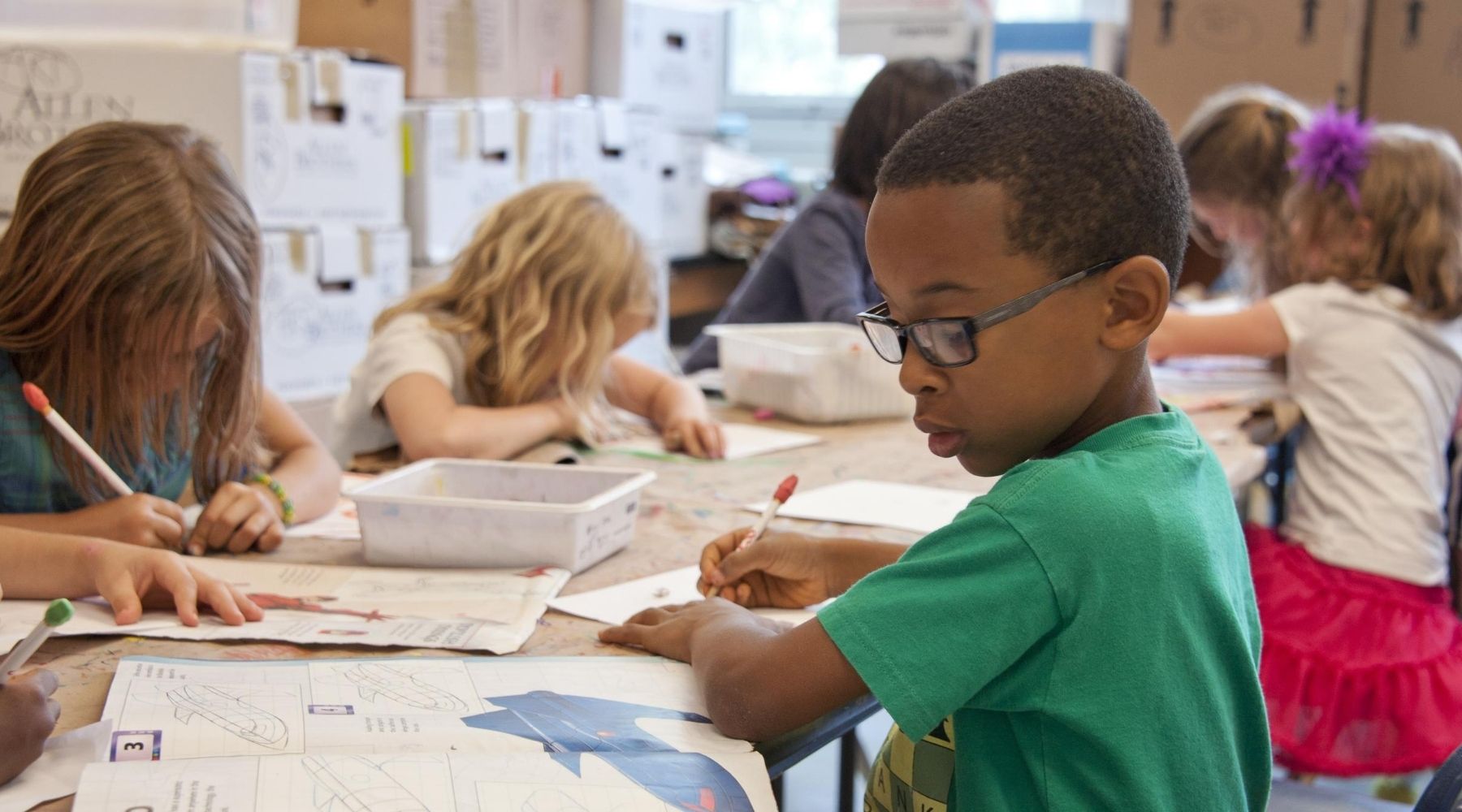 We thoroughly research all the products we feature, and we honestly think they're great. But just so you know, things you buy from links on this page may earn us a commission. All prices were accurate at publishing time.
The 2020-2021 school year is going to be one for the history (text)books. Some students will be returning to classrooms that impose physical distancing and require older grades to wear masks, while other students will be settling in for a year of virtual learning. When in doubt, we always picked Option C on a test, but there doesn't seem to be a less awful third option this year.
Trying to get excited for the upcoming school year is going to be a challenge for students, parents, caregivers, teachers, and school staff. A new backpack isn't going to fix the upcoming school year, but if it makes students a little less nervous on their first day, we're all for it.
Here are 25 cool, fun, and useful school products to help make the upcoming year less awful.
FOR THE TECHIE STUDENT
Immersive sound, all-day batteries, two microphones in each earbud, and intuitive gestures? Yes, please. Elevate your PowerPoint skills and swipe on the buds to advance slides or enable on-screen captioning and translation. Or, use voice dictation for Word, Outlook, and PowerPoint. And when you're done with your work (or while you're working, who are we to judge?), activate Spotify on your Android with a triple tap. So versatile.

Microsoft Surface Earbuds, $260 at Amazon.
FOR THE FORGETFUL STUDENT
From tests to due dates, to locker combinations, to the millions of other things it takes to get through a school day, students have a lot to remember. If you have a student who has a history of misplacing their important items, get the Chipolo ONE Bluetooth Item Track. Ideal for backpacks, keys, and other items no one wants to lose, the Chipolo makes it easy to find lost items through the companion app. You can even locate your smartphone by clicking on the Chipolo. A teen without their phone? The horror!

Chipolo ONE Bluetooth Item Tracker, $30 at Best Buy.
FOR THE ORGANIZED STUDENT
Rocketbook has helped to revolutionize the notebook market with their reusable notebooks that enable customers to upload their notes to their computer using the companion app. The company just released a new collaboration with Panda Planner, a leader in their own field for creating planners that help improve productivity and spark creativity. Help students get and stay organized and even give them some space for doodling. What's a planner without doodles?

Rocketbook Panda Planner, $49 at Rocketbook.
FOR THE TEXTING STUDENT
For students who need a new phone for the school year, parents may want to consider the newly launched TCL 10L. In addition to an impressive wide-angle lens that captures high res photos and HD videos, the affordable android also includes a Smart Manager to help keep students organized, a Reading Mode that reduces eye strain and lets students read books, notes, and school material in a paper-like experience, and scratch-resistant front glass. Plus, you can text and post things on Tik Tok. Priorities!

TCL 10L, $350 from Bell.
FOR THE ANXIOUS STUDENT
Keeping students safe during the school year includes both their physical and mental health. TouchPoints use BLAST (bi-lateral alternating stimulation-tactile technology) to emit vibrations and disengage the user's stress response, helping to reduce stress and anxiety and improve focus and mental alertness. TouchPoints can be worn on the wrist, the belt, or held in a pocket or sock. Although it's not a replacement for medical care, TouchPoints may help students feel less stressed and anxious about the upcoming semester.

TouchPoints for Kids, $210 at TouchPoint.
FOR THE CODING STUDENT
From virtual learning to shortened school days, students are going to have a lot more screen time this fall. Parents of younger kids who want a toy that has STEAM properties but doesn't require a screen will love the Botley 2.0. The latest version of the hugely popular and award-winning toy teaches kids how to code and now includes more music, light, and movement programs.

Learning Resources Botley 2.0 The Coding Robot, $115 at Amazon.
FOR THE CONFIDENT STUDENT
For kids that are still young enough to let their parents kiss them goodbye at the bus stop, help them feel loved all day long with an affirming backpack from Kids Swag. The Canadian company creates bags that are designed to help kids feel uplifted and confident from the first bell to dismissal. The company also creates notebooks, clothing, toys, puzzles, and STEAM activity books that help kids learn about the often-ignored history of Black leaders and change-makers.

Bryson Backpack, $65 at Kids Swag.
FOR THE MAC STUDENT
For Mac families, the iPad Air offers a great option for students who want a tablet and computer in one. Draw and create with the newly updated Apple Pencil and easily prepare essays with the Smart Keyboard. The lightweight iPad Air has 64 GB of memory and a crisp and clear 10.5-inch display. Plus, Apple is currently offering free AirPods to qualifying post-secondary students. You had us at 'free.'

iPad Air, $649 at Apple.
FOR THE ELEMENTARY STUDENT
It has been less than a year since Amazon introduced the Fire HD 10 Kids Edition Tablet and the intuitive tablet is continuing to be a favorite for kids and parents. With more kids online this year, parents can rest assured thanks to the Parent Dashboard that allows adults to limit the content their kids can access and set educational goals. Kids can stream their classes, research projects, read books, and stay connected to their friends even when learning remotely. Plus, the tablet has a built-in kid-proof case and stand that comes with a two-year warranty. Great for kids and honestly, great for any adult who uses a tablet.

Fire HD 10 Kids Edition Tablet, $260 at Amazon.
FOR THE OVERLOADED STUDENT
Students typically have a lot of supplies to carry with them from class to class, but for the new school year, students will likely have an even bigger load now that reducing contact means no more sharing items like glue, scissors, and art supplies. Give your student enough room for all their supplies with a large capacity pencil case that features several dividers and secret pockets, which are great for USBs and discretely placed feminine hygiene products. Isn't school fun?!

Large Capacity School Students Storage Zip Pencil Case, $17 at Walmart.
FOR THE VISUAL LEARNER STUDENT
They're chalk. They're markers. They're Sharpies. They're the fun and bright writing utensils your kids will love using on a whiteboard, blackboard, or glass until the novelty of virtual learning wears off. After that, they'll be a great way for parents to make schedules, to-do lists, and use when demonstrating how long division works. In case it hasn't been said in the last two minutes, teachers are heroes.

Sharpie Wet-Erase Chalk Markers, $23 at Staples.
FOR THE ARTISTIC STUDENT
Crayola recently made it possible for all kids to finally see themselves in their drawings. The company has introduced a new line of specially formulated colors representing people of the world, finally giving young artists a way to draw themselves, their family, and their friends. Now that is a piece of art worthy of the fridge.

Crayola Large Washable Multicultural Crayons, $10 at Walmart.
FOR THE ECO-FRIENDLY STUDENT
Vancouver based brand Parkland use recycled water bottles to create eco-friendly, durable, and stylish backpacks that students of all ages will love showing off. The Academy, which features two water bottle holders and a 15" laptop sleeve, is ideal for older students who are too cool to be seen with their parents but totally fine with them paying for their new backpack.

Academy Backpack in Paradise, $70 at Parkland.
FOR THE STUDENT LOW ON BATTERY LIFE
Students may need a portable charger to keep in their bags and help them stay charged throughout the school day. This lightweight 8000mAh portable power bank from Insignia can intelligently identify gadgets and provides the fastest charging time available. Students can also charge up to two small devices at once because sometimes your phone and tablet are just as drained as teachers after a day in class.

Insignia 8000mAh Portable Power Bank, $20 at Best Buy.
FOR THE MATH STUDENT
Texas Instruments hit the ground running with the release of their hugely popular TI-81 in the '90s and have made only a few upgrades since then. There is only so much graphing calculators can change without losing the integrity of the instrument. The TI-84 was released in 2004 and has remained relatively the same until….ROSE GOLD!

Texas Instruments TI-84 Graphing Calculator, $184 from Amazon.
FOR THE ON-THE-GO STUDENT
Keep your student on full battery life with a backpack that has an external USB port with a built-in charging cable. The large backpack from Ronyes is available in several colors, can fit up to a 16" laptop, has a waterproof cover and side pockets for holding bottles, umbrellas, and notes that shouldn't be passed in class but definitely will be.

Ronyes Laptop Backpack, $46 at Amazon.
FOR THE VIRTUAL STUDENT
As someone who has worked from home for years, my best advice for parents of kids transitioning to virtual learning is this – FULL-SIZED MONITORS. That's not me yelling, that your kids' neck, shoulders, back, and eyes yelling from hunching over and squinting at a small screen all day. Tablets and laptops are great but hook them up to a full-sized monitor so that your child doesn't resemble a question mark by the end of their first virtual learning semester.

UltraSharp 25 USB-C Monitor, $640 at Dell.
FOR THE STANDING STUDENT
Work from home hack number two – a standing desk. Your kids and their bum will thank you. Students are used to moving all day, whether it's from class to class, during recess, or walking to and from school. Even the long walk to the bathroom will be cut down considerably for students doing virtual learning this year. Help them keep the feeling in their legs with a standing desk and don't forget to add a comfortable standing mat as well.

Skarsta Standing Desk, $239 at Ikea.
FOR THE STUDENT WHO NEEDS SOME QUIET
If you have multiple kids doing virtual learning this school year, that means more opportunities for sibling bonding. JK, it means more time for your kids to spend annoying each other. Help everyone focus on their own studies with noise-canceling headphones. The Yoga ANC are lightweight, comfortable, have dual Bluetooth connectivity, and feature a 14-hour battery life. On second thought, buy yourself a pair and just let the kids work things out amongst themselves.

Yoga ANC Headphones, $184 at Lenovo.
FOR THE HUNGRY STUDENT
Want kids to be excited about their lunch every day? Pack pizza. Option number two is a cool lunch bag from Canadian brand SoYoung, who has a wide variety of colorful and fun lunch bags that are easy to clean, insulated, and made without BPA, PVC, lead, or Phthalates. We can't guarantee there won't be any whining about lunch, but at least it won't be about the bag.

Graffiti Lunch Box, $35 at SoYoung.
FOR THE VERSATILE STUDENT
Can't decide whether your student needs a tablet or a laptop? In school year filled with impossible decisions, make this an easy one with the 2-in-1 Lenovo IdeaPad Duet Chromebook. It's a 10.1-inch laptop with 64 GB of internal storage. Quickly disconnect the full-sized keyboard and presto, it's a lightweight and portable tablet. See! This year is going to be so easy!

Lenovo IdeaPad Duet Chromebook, $350 at Staples.
FOR THE SAFE STUDENT
Masks are the newest accessory for the 2020-2021 school year. In an effort to turn lemons into lemonade, we're looking at masks as an affordable way for students to show off their style. It's a reach, we know. Thankfully, both big-name and independent retailers are offering a wide variety of masks for kids and teens, including Indigo, Old Navy, Staples, Peace Collective, Bentley, Walmart, Roots, Urban Outfitters, Kombi, Ardene, and more. Stay safe, stay stylish.

Washable Face Mask, $15 at See You Soon.
FOR THE STUDENT WITH SPECS
If you have a student who got a new prescription this summer and is ready for a more adult look, help them put their best and most confident face forward with a cool new pair of specs. Companies like Warby Parker and Bôhten Eyewear make it easy for customers to try frames from the safety of their own homes.

Jade Sky Blue, $197 at Bôhten Eyewear.
FOR THE LIT STUDENT
Do students doing virtual learning this year need a selfie light to perform well academically? No. Will it help them look their best and feel confident during the years when acne tends to be at its highest and self-esteem is at its lowest? Yes.

Diyife Rechargeable Selfie Ring Light, $16 at Amazon.
FOR THE ARMCHAIR STUDENT
Virtual learning means every space in your home is now your child's classroom. Help them be comfortable and portable with a lap desk that is great for writing, typing, Zooming, and hopefully learning their math lesson well enough that you don't have to answer any questions. How do you multiply fractions, again?

Rainbow Lap Desk, $30 at Indigo.