Gadgets & Wearables - TouchPoints™ basic review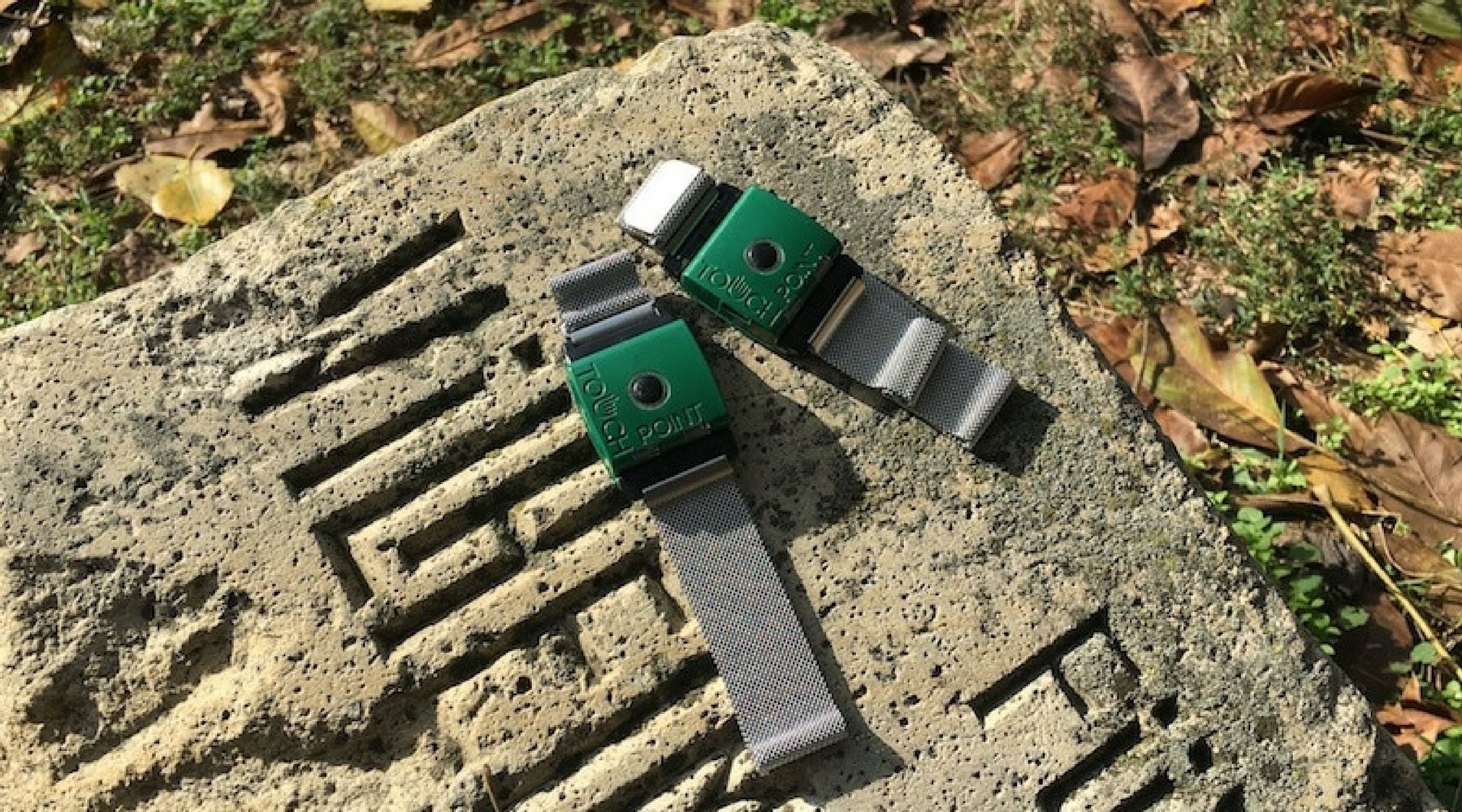 Stress is a byproduct of modern living and we all feel it from time to time. Its your body's way of responding to any kind of demand. With so many rules, regulations and expectations, its easy to lose sight on the importance of healthy living.
While occasional stress is a normal part of life and can even be positive, studies have found many health problems associated with long-term exposure. This includes everything from headaches, to upset stomach, chest pain, difficulties sleeping and high blood pressure. Research shows that stress can also worsen symptoms of certain diseases.
Many people choose to do nothing to keep stress at bay, resorting to unhealthy means of dealing with everyday struggles such as overeating or alcohol. A select few choose healthier means such as yoga, meditation or exercise. But there may be an easier way thanks to a growing number of wearables and gadgets that are designed to help keep you calm.
Essential reading: Stress busting wearables to help you chill
TouchPoints is one such solution – a non-invasive, neuroscience wearable whose claim to fame is that it can reduce stress significantly with only a few seconds of use. The first device was launched some two years ago by Neuropsychologist Dr. Amy Serin and executive child advocate Vicki Mayo. Sales of the $240 Touchpoint Original on Kickstarter climbed to over $70,000 in a month.
In a bid to bring something simpler and more affordable to the masses, the Arizona based startup turned to Indiegogo earlier this year to crowdfund a new version of the gadget. Starting at $135, the campaign for Touchpoint Basics received an even bigger response and managed to raise nearly $250,000. The company has now started to ship orders to backers.
I managed to get my hands on Touchpoint Basics and have been taking the stress relief gadget through its paces. So is this all hype or does it really work? These are my impressions.
The device arrives in a box containing two Touchpoints, a pair of watchband couplers and slide clips for attaching to belts, pants or pockets. There is also a micro-USB cable with two charging points so you can refuel both Touchpoints at the same time. If used sporadically, the battery will last 1-2 days (7-8 hours of actual use). It takes around 2 hours to recharge.
The Touchpoints are very lightweight, square in shape and metallic looking. They come in a variety of colors and operate independently of an app. And this is an impo
rtant difference between the Original and Basic version. The Original comes with an app and 6 speed settings, while the Basic comes without an app and only 3 speed settings.
The fact that the budget friendly second edition has no app actually has some advantages. It works right out of the box (no setup is needed), and makes it easier to use for quick stress relief on the go as you do not need to fumble with your smartphone.
You can wear Touchpoints in a variety of ways: in hands, pockets, tank top straps, or even socks. Skin contact is not necessary to feel the vibration. The only thing that is necessary is for the two Touchpoints to be on opposite sides of the body. You can also attach the watchband couplers to the devices, and wear Touchpoints on your wrists as you would wear a watch.
The TouchPoints can be used for as little as one minute or a few hours per day, depending on a your goals. You are typically meant to use them before, during or after any stressful event. But the gadget is not just about stress. It also has other uses thanks to three speeds at which it can emit vibrations. For example you can use it to deal with anger or 15 minutes before going to bed to sleep better.
To use, turn on one TouchPoint by clicking on the single physical button on the device. A green light will appear. Now its time to choose the setting. Click once again for the Blue light (slow setting which promotes sleep), once again for the Yellow light (medium setting which promotes calmness), and once again for the Purple light (fast setting which dispels anger).
Once you have chosen your setting, turn on the other Touchpoint at which point it will communicate via Bluetooth with the first device and pick up on its setting. The two Touchpoints will then gently vibrate (similar to cell-phone vibrations), first one and then the other. I've used the device numerous times, and 90% of the time the second unit was quick to pick on the settings. Its only on the rare occasion that I would need to switch it on/off once more before it picks up on the signal.
Now for the science lesson. Once you've got the little gadgets up and running, TouchPoints uses something called Bi-Lateral Alternating Stimulation Tactile (BLAST) technology. More simply, the vibrations you feel cause a reduction in high-frequency waves that are associated with anxiety and stress. This means the wearable alters your body's Fight, Flight or Freeze response allowing it to return to its homeostatic nervous system. Touchpoints will clear your mind, and shift you back into the logical, rational part of your brain.
At least that's the theory. But does it really work?
The startup claims the little device produces significant and quantifiable brain changes after just seconds of use. They have even quantified the effects. Apparently users report a 71% reduction in body sensations within 30 seconds. And they cite independent academic studies to support these claims. I won't go into them for the purposes of this article, but you can check them out on this link.
I've used Touchpoints for a few weeks now and can attest that everything works right out of the box. The bigger question is, of course, to do with its effectiveness.
Unfortunately this is not an exact science. Its not as simple as determining whether a fitness tracker is accurate at counting the number of steps or keeping tabs on the number of hours you slept. Quantifying the effects of something that works on your brain is much, much more difficult. Its more subjective.
What I can say is that I was genuinely surprised with the results. Although its not possible for me to confirm whether or not the company's claims of a 71% stress reduction are correct, I did feel a noticeable difference. After a few seconds of use I would experience a strange sort of calmness, perhaps something similar to the feeling you get after meditating for a few minutes. You relax and start to think more clearly.
At one point I switched on the device thinking I had chosen the middle – calm setting. After a few minutes I found my eyes closing, looked down and noticed that I had inadvertently chosen the low – sleep setting. Which confirmed to me that the different speeds at which Touchpoints can vibrate result in different effects. As far as the anger setting goes, I did not get into any traffic jams or shouting matches in the past few weeks so cannot attest to its effectiveness, but choosing the third fastest setting does improve your mood. Its also worth mentioning, these are all subtle effects.
After a few days I found myself popping Touchpoints into my pockets when going out and switching them on at random points throughout the day. Not because I was looking to test them for this article, but because I actually wanted to use them.
The company says the little gadget can helpful to those that struggle with sleep, focus, cravings, and even addiction. Its has also found use for children with autism and people diagnosed with ADHD.
As mentioned, there are two versions, TouchPoints Basic and TouchPoints Original. They both feature the exact same technology but the $135 Basic version comes with three speeds and does not need a smartphone app to work. The more sophisticated Original retails for $240 and comes with six settings (sleep, stress, calm, focus, performance and craving), and a smartphone app.
Both the Original and Basic version can be picked up on thetouchpointsolution.com.
*This article first appeared in Gadgets & Wearables on by Marko Maslakovic. To read the full article, click here.